Stanowią nieodłączny element krajobrazu miasta. Zalepiają jego prawdziwą strukturę kolorami i promocjami. Są zasłoną wstydliwie opuszczoną na odrapane kamienice. Nagle znika ich zawartość, a puste ramy zaczynają straszyć, jak okna w nawiedzonym domu.
W drodze do redakcji widzę puste billboardy, wyblakłe bannery, megaboardy rozpaczliwie nawołujące "To miejsce na twoją reklamę". Modlę się, żeby za tą pustką treści poszła likwidacja nośników. Po co udawać, że ma się coś do powiedzenia, gdy wyraźnie widać zbędność takiej komunikacji?
Firmy outdoorowe same są sobie winne, bo stawiały nośniki gdzie popadło, zamiast komunikacji wizualnej budując wizualny śmietnik. Jakość plakatów też pozostawia wiele do życzenia, choć tu winni są już reklamodawcy. Puste ramy są bardziej estetyczne.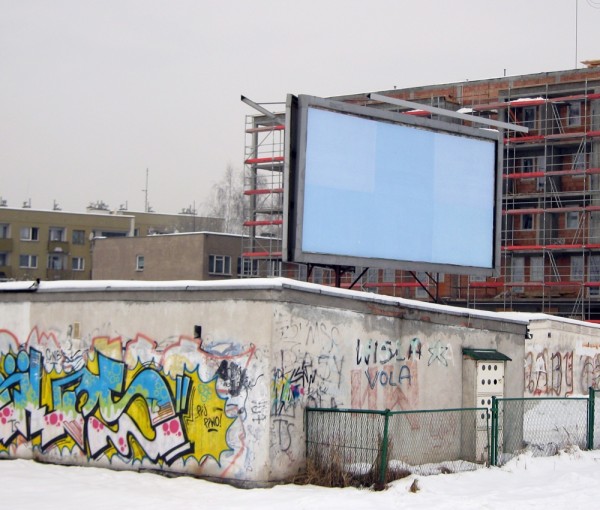 Wizyta znajomego kamienicznika w siedzibie lokalnego oddziału jednej z firm outdoorowych. Rozpacz w oczach pracowników, atmosfera lęku przed kryzysem, który już tu jest, jak Buka zimą:
– Proponujemy 30 procent dotychczasowej ceny za billboardy na Pańskiej kamienicy – lub je zdejmiemy.
– OK, to zdejmijcie.
Trzymiesięczny termin do rozwiązania umowy daje tyle, co prawie rok z nową ceną. A do dyspozycji pozostaje ściana, może znajdzie się inny operator. Jeśli będzie ktoś chętny oczywiście.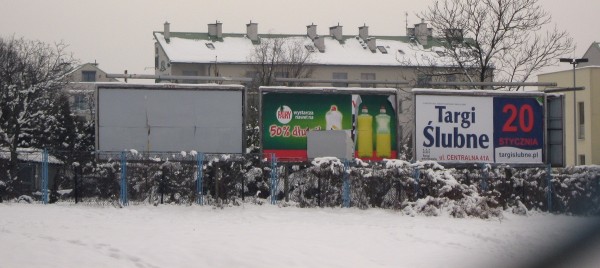 Kolekcja zawiera zdjęcia 21 billboardów, a było jeszcze 7, które dostrzegłem później. Stanowiło to w sumie jakieś 25 proc. wszystkich billboardów na trasie 5,5 km.  Czyli było jakieś 112 billboardów na tym odcinku (średnio co 50 m jeden). Nie licząc citylightów i dzikiej reklamy (dużo, dużo więcej). Gorzej niż w Internecie – i nie ma AdBlocka.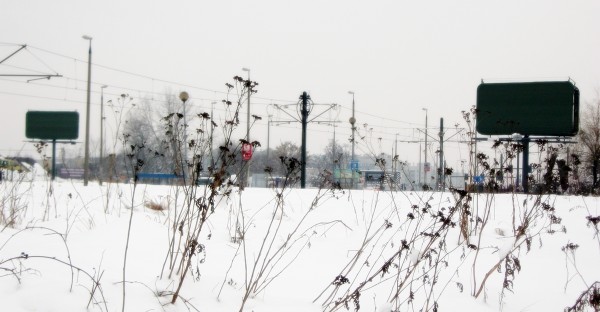 Zbyt wielka liczba nośników, walka o każdy ochłap wolnej przestrzeni w pasie drogowym i na posesjach spowodowały przerost i chaos komunikacji wizualnej w przestrzeni miejskiej. Nadmiar nośników nie sprzyja ich zauważalności, a na dodatek brak dobrego, wspólnego dla wszystkich operatorów standardu badań outdooru nie pozwala ocenić trafności wyboru lokalizacji. To ma się zmienić dzięki wspólnej inicjatywie AMS, Stroera i Clear Channel. Nawet UOKiK się zgodził, choć pod warunkiem, że badania będą miały formułę otwartą: każdy operator będzie mógł przystąpić.
A dochodowość outdooru spada, co pokazują systematycznie badania Starlinka, Equinox, jak i Izby Gospdarczej Reklamy Zewnętrznej.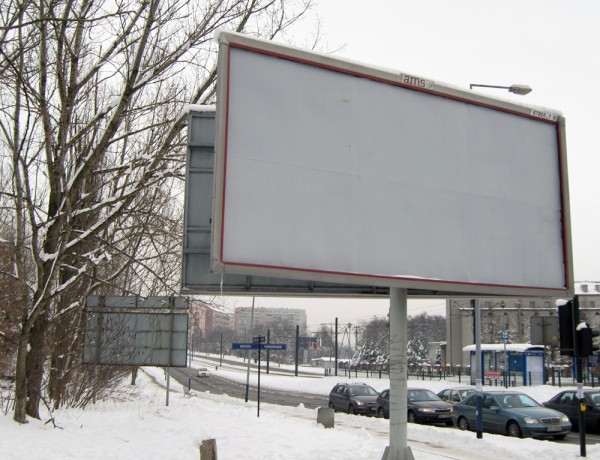 Pamiętam dyskusję sprzed lat, gdy przedstawiciele tych trzech firm niby zgadzali się, że prawo jest wadliwe, że za dużo nośników, że wiele lokalizacji nie ma żadnego uzasadnienia. A jednocześnie patrzyli po sobie, kto pierwszy choć zadeklaruje przerwanie wyścigu zbrojeń. W ich oczach widać było wyraźnie, że taki ruch od razu bezwzględnie wykorzystają, przejmując porzucone lokalizacje.
Sądzę, że w dłuższej perspektywie pewnie wyczyszczą miasta z nadmiaru powierzchni reklamowych. Będzie to jednak wymagało tyle zabiegów dyplomatycznych i lobbyingu, co redukcja arsenałów nuklearnych w czasie Zimnej Wojny.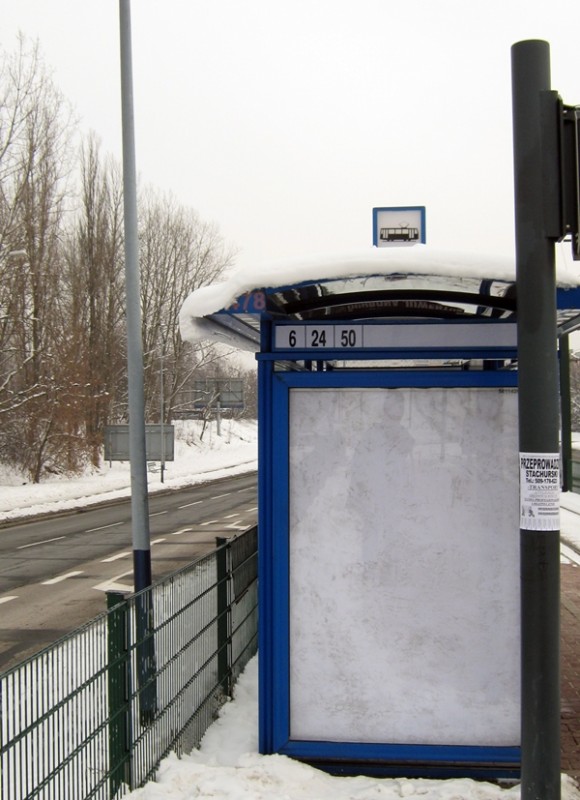 Nie bez znaczenia jest zmiana klimatu społecznego – a ten nie sprzyja reklamie zewnętrznej. Powstają oddolne inicjatywy walczące (na razie) z dziką reklamą czy płachtami na budynkach. Niedawno opublikowana wizualizacja pokazująca przestrzeń bez reklam w Poznaniu spowodowała, że przy jednym budynku uporządkowano przestrzeń. Dobre i to, choć przy takim nagłośnieniu aż dziwne, że inni za tym nie poszli.
Mieszkańcy organizują się, żeby zrywać ulotki: Miasto Moje A W Nim, Podgórze.pl, Łódź, za nimi pewnie pójdą inne miasta. Bardziej na razie liczy się efekt medialny niż rzeczywista skuteczność takich akcji.
W Krakowie na Starym Mieście powstał Park Kulturowy ze ścisłymi regułami dotyczącymi reklam i szyldów. Z oporami bo z oporami, ale powoli egzekwowane są te zasady. Reklama jednak nie znosi próżni i w to miejsce weszli nagabywacze. Można sobie nimi podbudować ego, bo często zdarza się słyszeć:
– Do you speak Polish?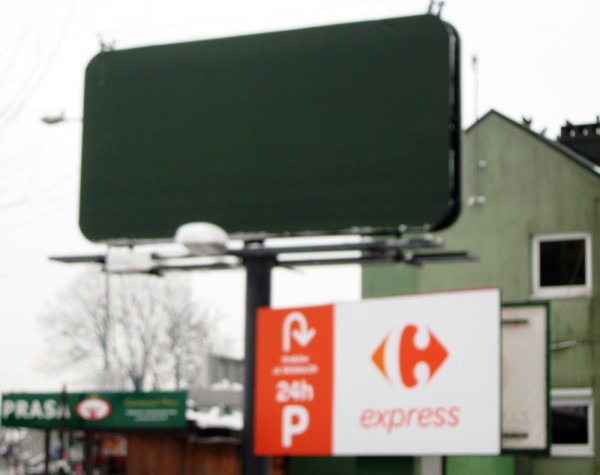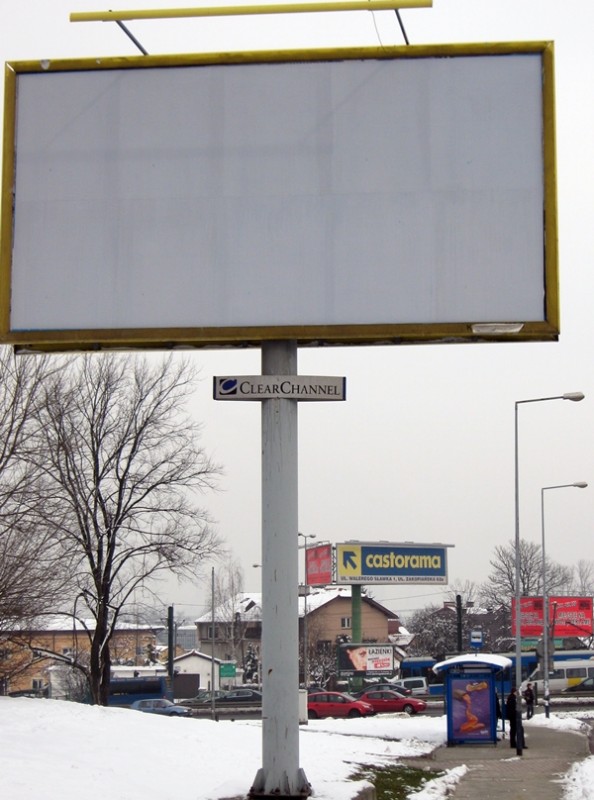 Tylko na dziką reklamę bez dobrego prawa rady nie ma. Ale może jakoś lobby outdoorowe i za to się zabierze, naciskając na polityków i samorządowców. Może też wspierać (niejawnie, bo byłby skandal) inicjatywy lokalne walczące z "dziką" konkurencją. Nie zdziwiłbym się, gdyby wyszło kiedyś na światło dzienne, że już to robi.
Mają wspólnego wroga, a lokalizacji wystarczająco, żeby nawet po redukcji nośników było z czego wykroić atrakcyjną ofertę dla reklamodawcy.  Tym atrakcyjniejszą, że bez tak gęstej konkurencji.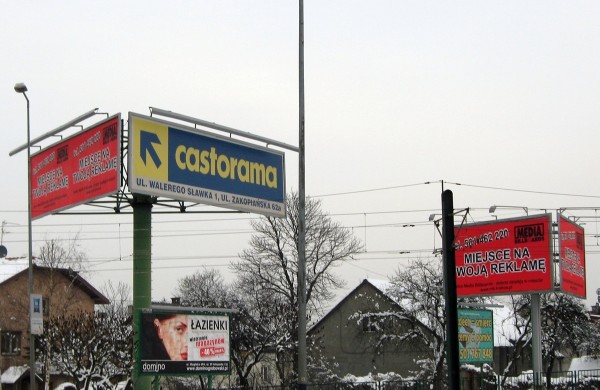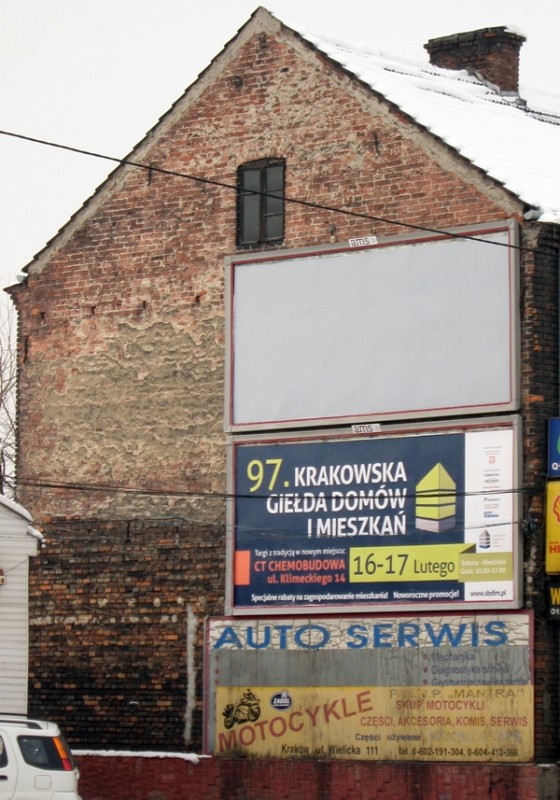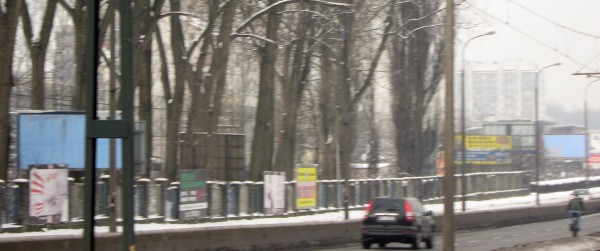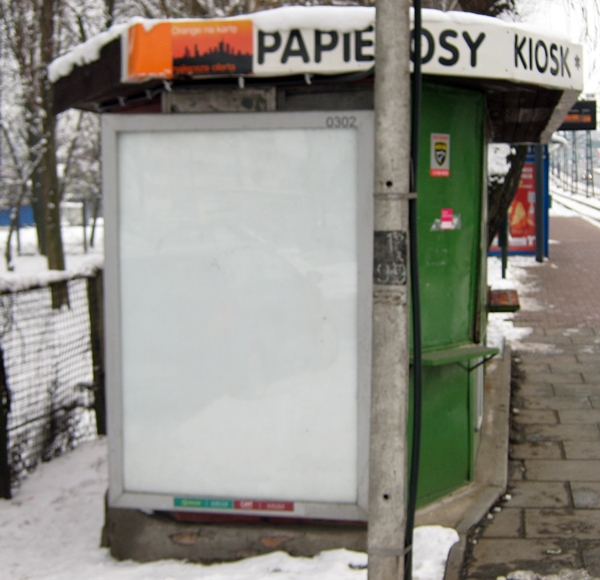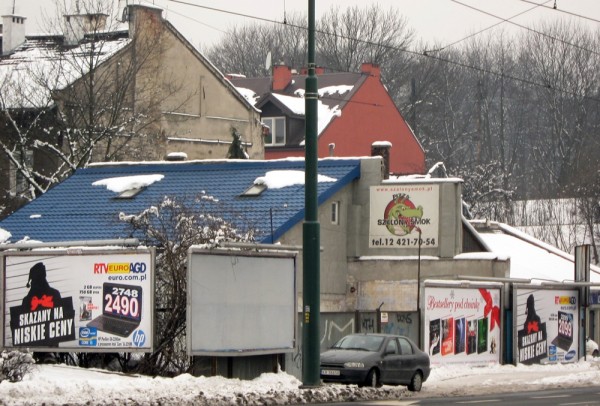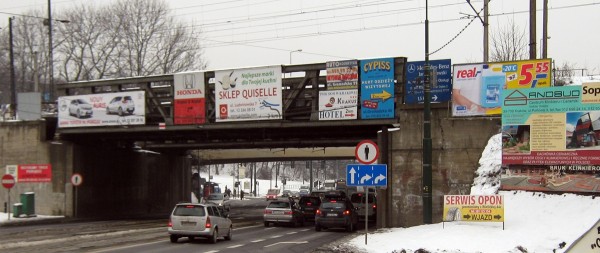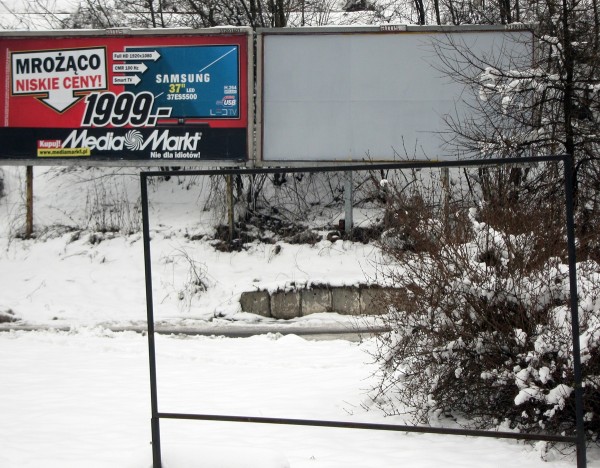 Nawet miejsca na dziką reklamę nie zawsze są wypełnione.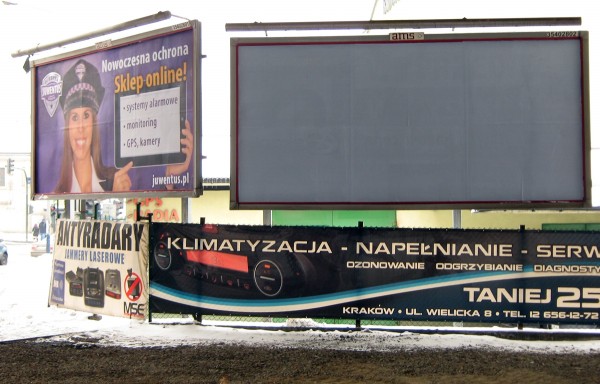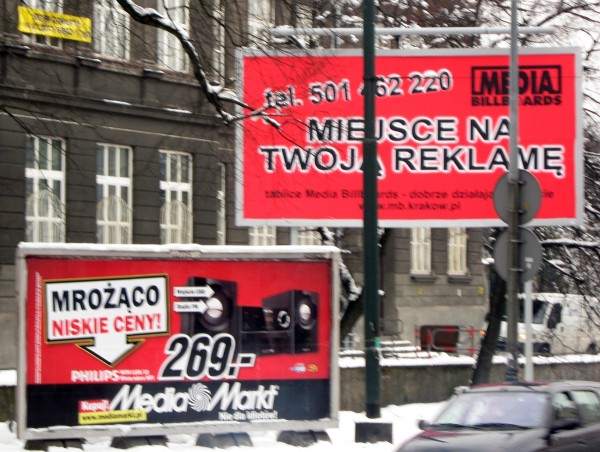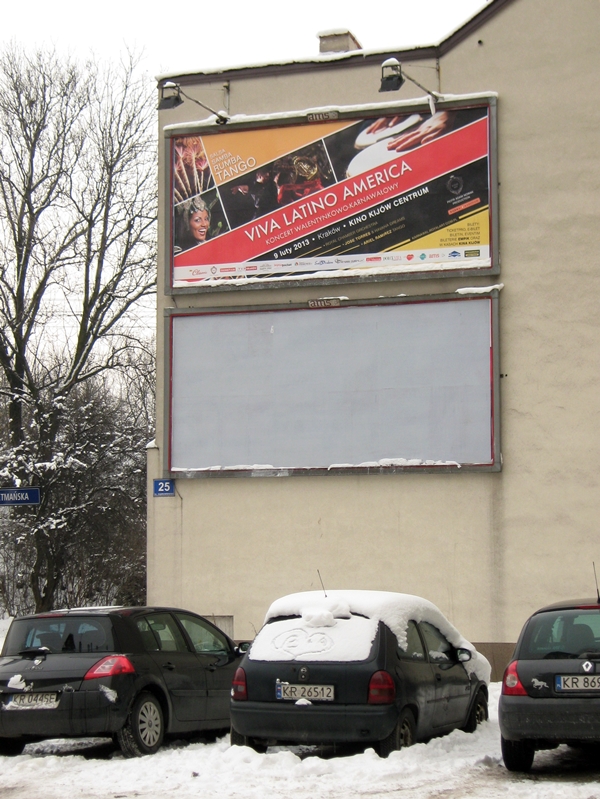 I stąd już tylko dwieście metrów do redakcji 😉